Situation
Just as we were preparing to launch a new marketing communication framework and story pillars for the Costa Rica Tourism Board (ICT), the impact of COVID-19 reached a critical point. The global situation escalated with border closures and shelter-at-home mandates, and our client immediately turned to us for recommendations on how to navigate this changing climate.
Action
With the world on pause and people reconnecting with the simpler joys in life, we identified that Costa Rica's campaign, "Life's Essentials Found Here," contained a relevant message in this time of crisis. For that reason, we recommended that rather than going dark we should maintain Costa Rica's presence on high-funnel media to continue generating awareness and inspiration. At the same time, we jumped into action to create an integrated Essentials Toolkit to amplify Costa Rica's voice. Using remaining funds from our 2020 production budget, our COVID-19 response package was conceived and executed within a two-week timespan, featuring multiple components across media, PR and social media outreach:
Our team created a "We'll Be Here" PSA video, which was shared across all of Costa Rica's owned social media channels and featured in national media outlets. Watch the video below.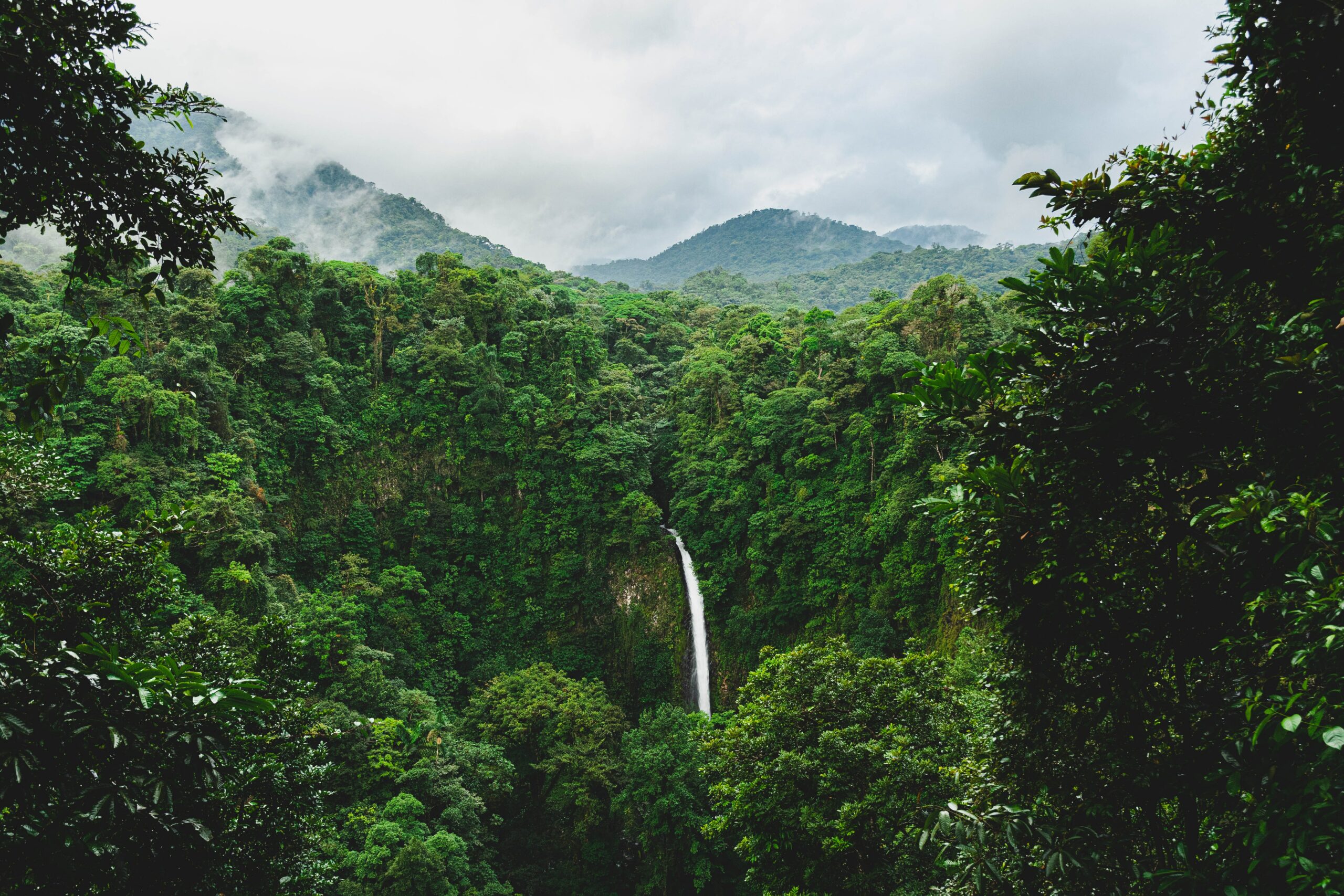 We continued running our media as scheduled, shifting to an aspirational tone in major channels such as Pandora's "Relaxation Station," Travel + Leisure and Expedia.

When we received word that South by Southwest was canceled, our experiential team repurposed materials designated for the Costa Rica booth to create beautiful bouquets that were shipped to key partners and members of the media.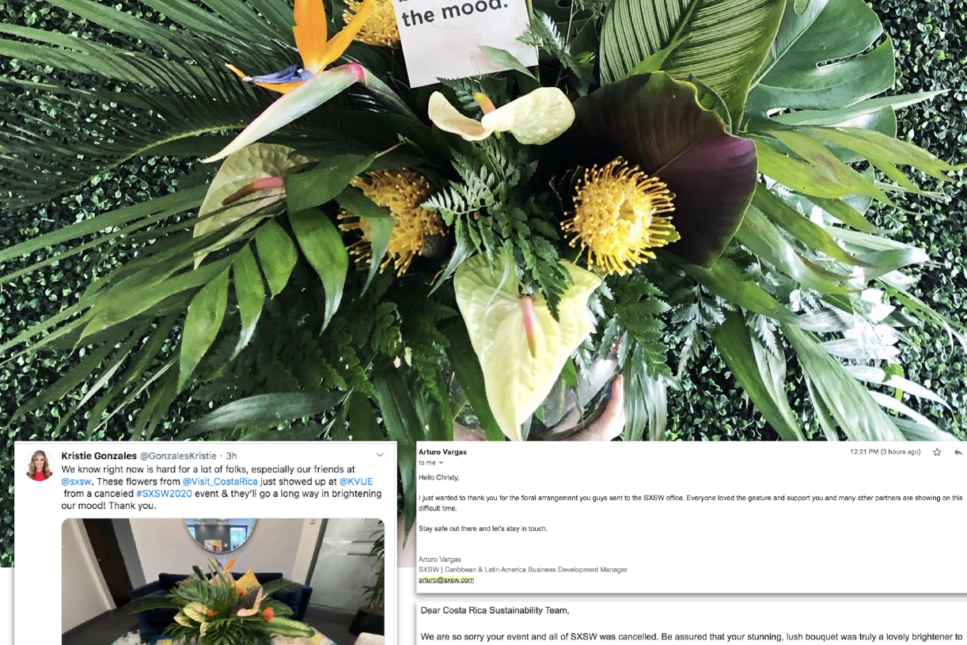 Our PR team created Pura Vida care packages filled with wellness, family and coffee products from Costa Rica to share a little bit of the destination to journalists and social media influencers in the U.S. and Canada.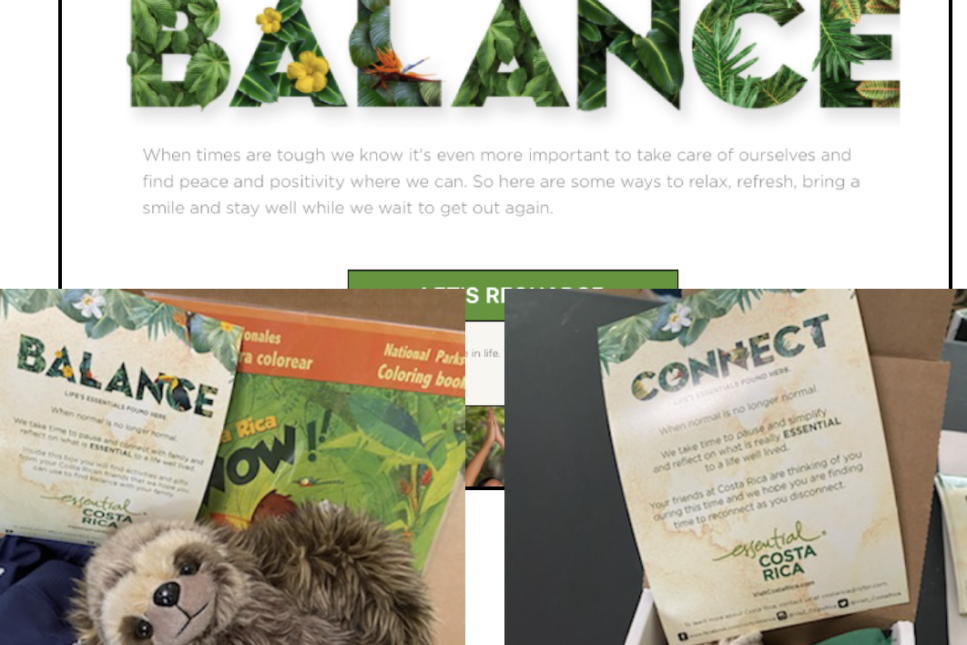 Leveraging our story pillars, we created step-by-step cooking videos and at-home yoga and meditation videos. All original videos were shared across our owned social channels and Costa Rica's website.

Through community management, our social team learned about a UK family that recreated a Costa Rica rainforest in their basement and posted a video on Twitter. Our team sent the family a Costa Rica care package and amplified their post, which led to a segment on GMA.

With schools closed around the nation, we created a series of activities for families – including original coloring books and sustainable craft projects featuring Essential Costa Rica branding.

We created Costa Rica–themed Zoom backgrounds for users to share inspiration about the destination's natural beauty.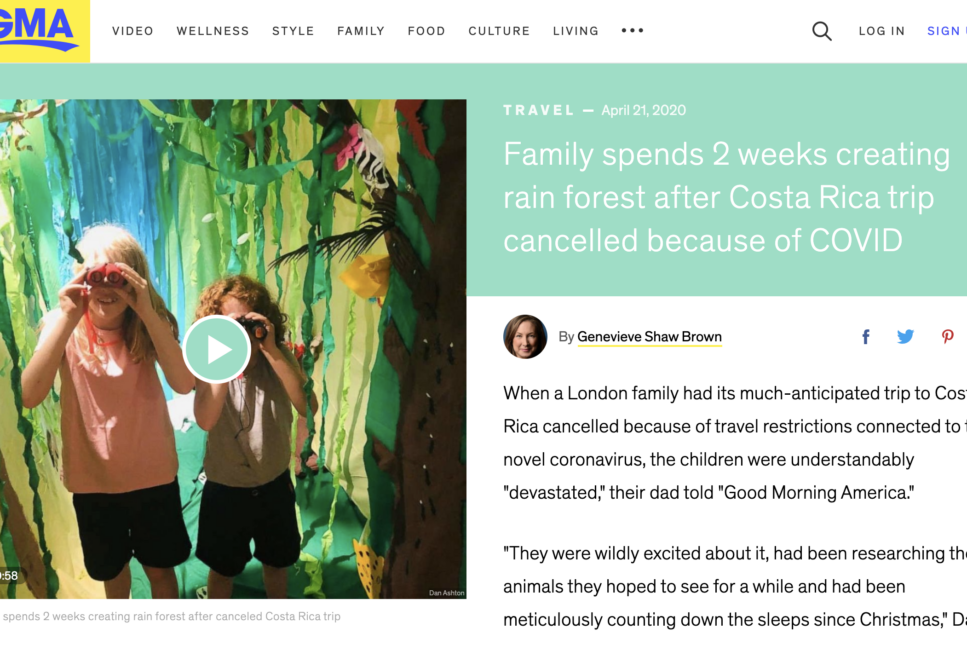 Results
The original "Well Be Here" PSA video generated organic coverage in Forbes, The Washington Post and Travel Industry Today and earned well over 2 million impressions on Facebook alone. Our flower bouquets, Pura Vida care packages and kids' activities were well-received by influential members of the media and industry insiders, many of whom personally expressed their appreciation directly and via social media.