When the world's technology pioneers and business leaders come together, MMGY Global is at the forefront with perspectives on the tourism industry. Robert Patterson, VP of Marketing Technology at MMGY Global, led the discussion at the Consumer Electronics Show on how innovation is transforming the way we travel.  
Patterson was joined by Audrey Hendley, President of American Express Travel, and John Padgett, Chief Experience & Innovation Officer at Carnival Corporation. They analyzed how modern travel brands can leverage innovations such as artificial intelligence and virtual reality to stay competitive in a saturated market.
Some of the key takeaways: 
VR is not the game-changer we were told it would be. 
The value of virtual reality has been touted everywhere, including CES, but it's now something of a stalled technology. Expensive equipment, fragmented technology platforms and unknown ROI are logistical roadblocks for brands across industries. For some context, Sony PlayStation® – the largest console gaming platform in the world – has only sold 5 million VR headsets, a 4.7% adoption rate from its 106 million PlayStation® 4 million users. In a broader context, eMarketer's most recent study on virtual and augmented reality users projected that 13% of people in the U.S. will use VR and 20.8% of people in the U.S. will use AR at least once per month. 
There's still a place for VR in travel.
American Express, Carnival Corp. and plenty of other brands are turning to VR as an operational tool rather than for consumer inspiration. Translation: It's an excellent platform to educate travel advisors about experiences within destinations to better empower them to sell. The more positive outlook of AR adoption suggests that this technology has a stronger potential in the consumer space – from overlaid maps suggesting local points of interest to information-rich enhancements in museums and to landmarks, all of which are accessible through everyday mobile devices.
AI will lead the way. 
According to MMGY Globals's 2020 Destination Marketing Survey, destination marketing organizations (DMOs) are much less interested in investing in AR or VR technology than in previous years. They do, however, see the value in investing in artificial intelligence tools such as chatbots, voice search and smart speakers for travel planning.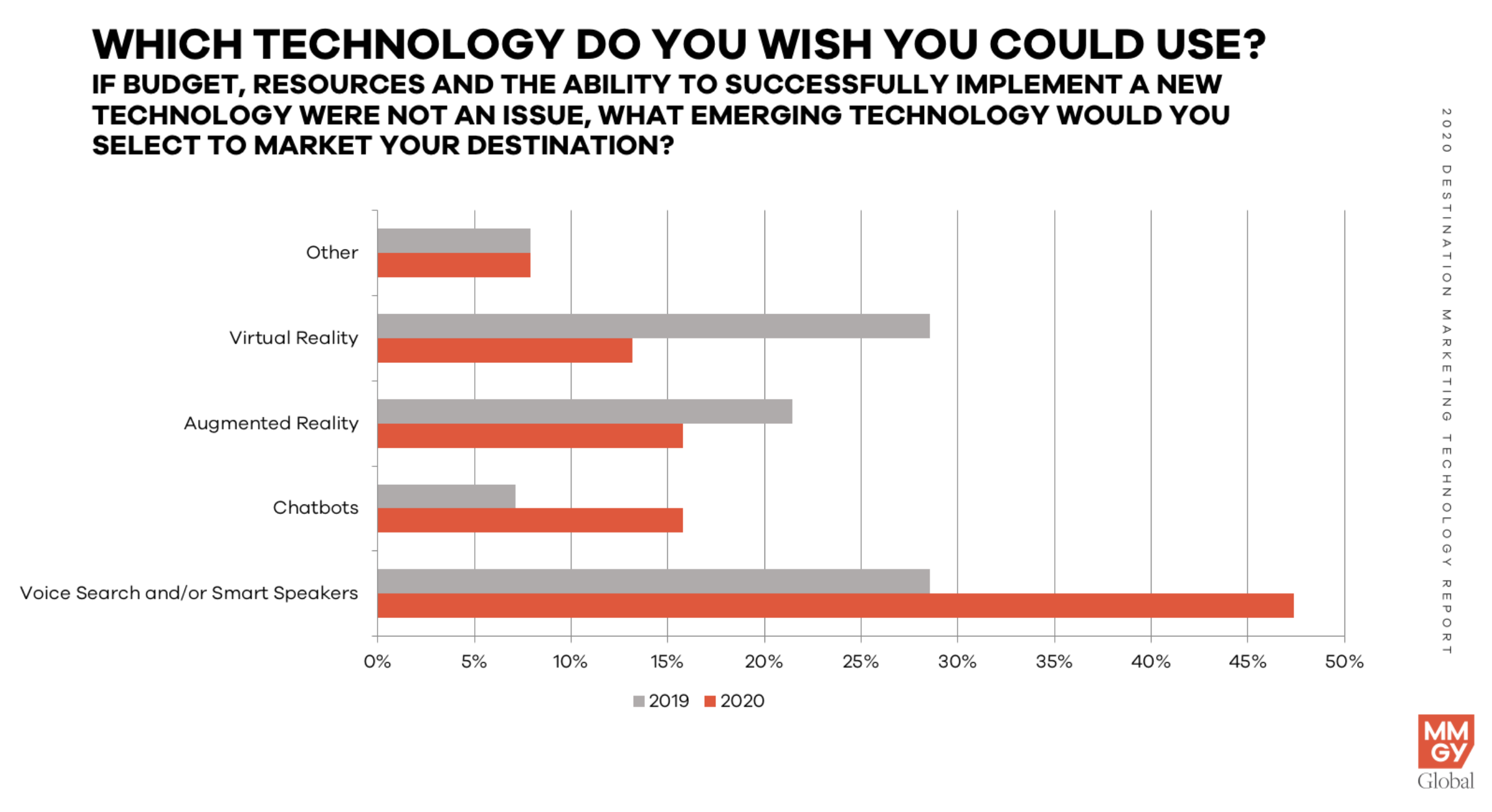 High-tech AI must also be high touch.
As a prime example of how AI can inform travel decisions, Hendley explained the value of American Express' recently acquired tool, Mezi – a personal travel assistant app for consumers. With as many as 45% of people reporting being frustrated when they can't access their booking information 24/7 on their mobile device. (Source: Travelport Global Digital Traveler Research) Mezi is designed to reduce the pain points of planning and booking travel on the go. 
However, she explained, there is a critical component that even the most forward-thinking innovators often overlook: the human component. Studies have shown that consumers – most significantly 90% of Millennials – still want to be able to talk to a human when they need to. (Source: American Express Travel & Wakefield Research 2019.) Backed by American Express' high level of customer service, Mezi's automated technology still has human intelligence behind it to provide personalized, user-focused solutions.

Addressing user's needs will help your business thrive. 
Another form of smart technology is making waves in the travel industry, as Carnival Corp's innovative OceanMedallionTM technology is being rolled out within Princess Cruises' fleet. The coin-sized digital device is used to smooth out the guest experience across the board, from embarkation, unlocking staterooms and point-of-sale purchases to food and beverage delivery, it has seen an impressive 99% percent adoption rate. 
But this massive technology isn't just designed for consumers' ease of use; it's also collecting millions of data points based on user activity. Every touch point on the ship is essentially creating digital clones to better map out how guests are interacting with the ship. Pagett, who is also the behind Disney's Magic Band, pointed out that in a controlled environment such as a cruise ship or theme park, technology is becoming increasingly invisible as we move about the world.