In January, nearly 200,000 people arrived in Las Vegas to attend the Consumer Electronics Show (CES) to see the latest and greatest in consumer and conceptual technology. MMGY was there to explore how these technologies will impact consumer behavior and translate to marketing opportunities for travel brands. Of all the technologies featured, we believe that there are three keys to evolving travel marketing, distribution and consumer experiences.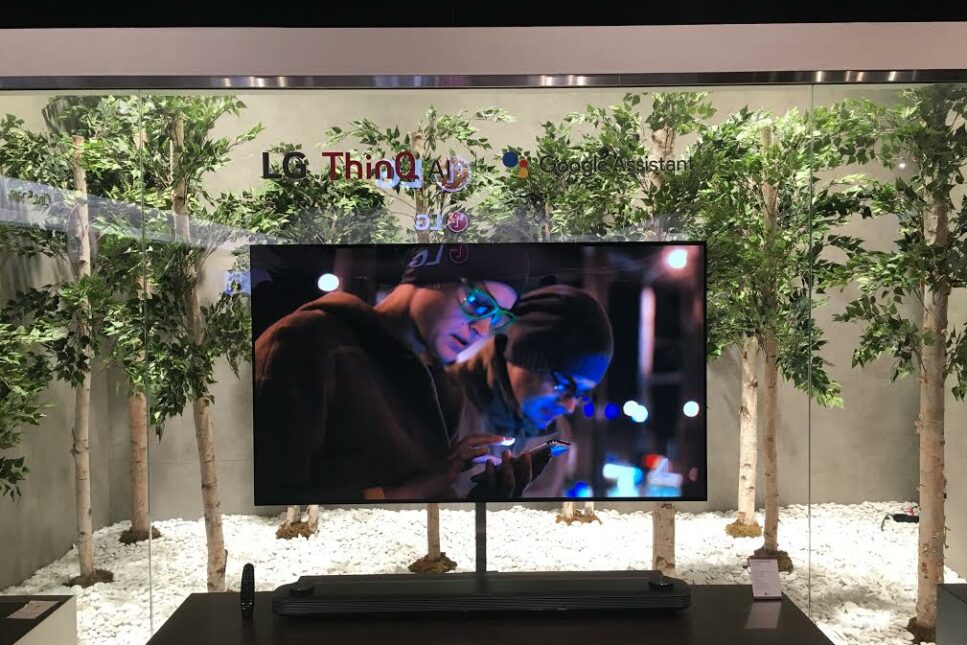 LG showcasing their 4K TV line integrated with Google Assistant and Amazon Alexa
Voice Technology Is Mainstream
Just before CES 2019, Google announced that Google Assistant is now available in 1 billion devices, followed shortly by Amazon declaring that it has more than 100 million devices running Alexa. Voice is no longer an emerging technology, it is now mainstream. According to research company Forrester, more than 66 million households in the United States will have smart speakers by 2022, a 154% increase from 26 million in 2018. During a CES panel, Meg Goldthwaite, CMO at NPR, and Tom Webster of Edison Research released findings from their co-authored The Smart Audio Report and stated, "globally there will be more of these devices than people."
At CES, logos for Google Assistant and Amazon Alexa were prominently featured alongside nearly every consumer electronic brand and product. From cars and TVs to mirrors and showers, brands are making big bets on voice as the interface of consumer technology.
Travel Industry Takeaway: Voice has arrived and is growing at rates surpassing mobile phone adoption. Technology providers introduced low-price smart speakers to gain access to the home and consumer adoption. However, smart speakers are the Trojan horse to the larger opportunity to integrate voice into all consumer interfacing devices and fixtures. Most notably, the inclusion of voice into TV will be revolutionary. While voice search for TV is currently focused on locating programs and accessing applications, T-commerce and the ability to search, shop and transact from your couch is nearly here. This frictionless technology, along with the adoption of 4K and the average TV size being 55 inches, means a whole new distribution and merchandising opportunity for travel.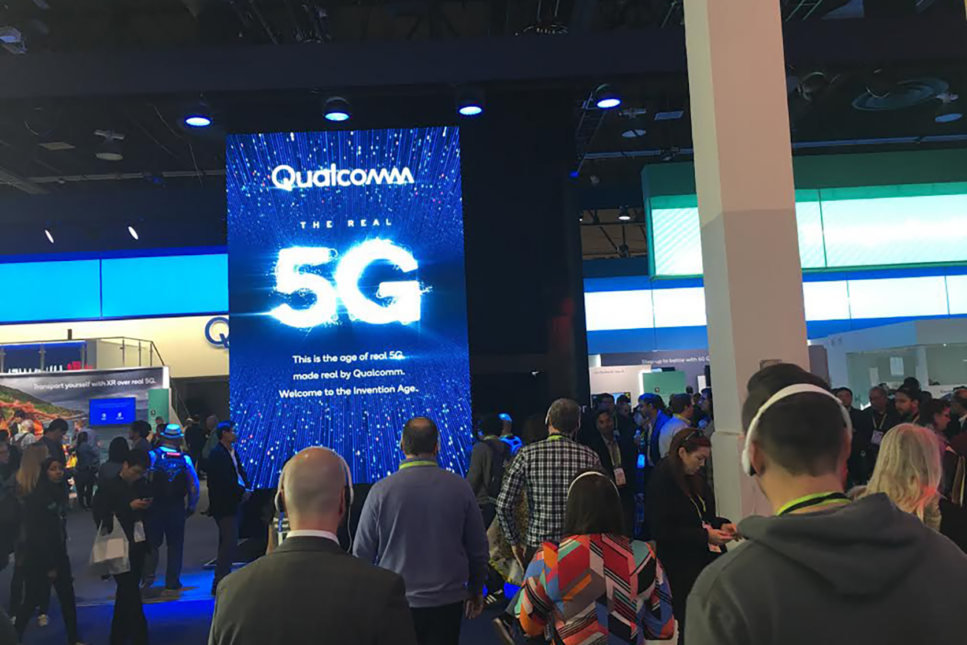 Qualcomm 5G booth at CES 2019
The Rise of the 5G Network
With the promise of the first 5G devices to be made public in 2019, there is a lot of buzz around what 5G will provide. During his keynote address at CES, Hans Vestberg, CEO of Verizon, outlined eight "currencies" of 5G technology that will evolve our mobile connectivity:
Speed: 5G will offer peak data rates of up to 10 gigabits per second (comparable to wired internet connections).
Throughput or data volume: 5G offers mobile data volumes of 10 terabits per second over a square kilometer.
Mobility: A supporting 5G device traveling at up to 500 kilometers/hour can stay connected to a 5G network (think high-speed trains or drones).
Volume of connected devices: 5G can potentially support up to 1 million devices per square mile.
Reduced energy usage: Energy efficiencies with 5G network equipment and devices can potentially reduce our energy footprint by up to 90% (10% of the energy required by 4G).
Faster deployment of equipment: 5G will scale faster to more people in more places than 4G.
Reliability: 5G is up to 99.999% reliable.
Low latency: 5G reduces the end-to-end travel time of data from the end user to the network.
Travel Industry Takeaway: The emergence of 5G will provide greater connectivity for travelers. Legacy internet hardware costs for hoteliers will likely be replaced by users' ability to connect at near wired connection speeds. Subsequently, free Wi-Fi will become less of a selling point, and consumers will no longer accept inflated internet connection charges on-property. Locations with poor connectivity will likely see improvement, and more devices beyond phones will become "connected" in the internet of things. For all travel brands, it means that users will have more bandwidth to connect new devices to livestream and share content in new and immersive ways.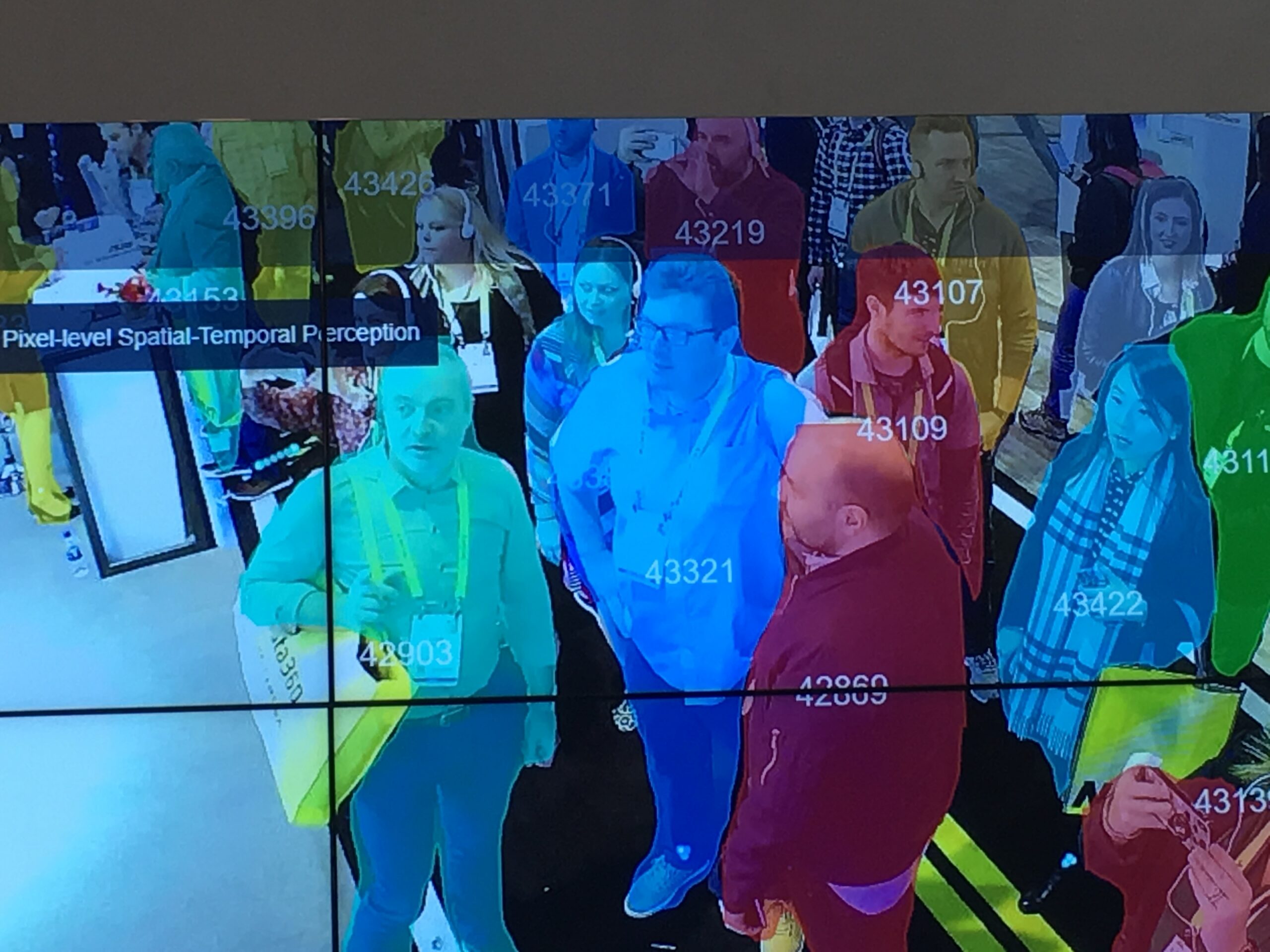 Horizon Robotics' Dense Crowd Spatial-Temporal Structuring Solution showcasing real-time AI
AI Everywhere
The ability to compile, analyze and make data actionable through artificial intelligence was omnipresent at CES in 2019. From autonomous vehicles operating independently on roadways to televisions reading a room and automatically adjusting their settings, AI was one of the show's hottest buzzwords. Perhaps the most impressive (and equally scary) example on the convention floor was Horizon Robotics' Dense Crowd Spatial-Temporal Structuring Solution. Horizon Robotics' technology displayed in the convention hall utilized HD video cameras and impressive computing power to identify crowd attendees in real time, assign them an anonymous numeric value and provide accurate demographic information based on the attendees' physical traits. Travel applications of this particular AI technology could range from security and identification to zero-touch transactions similar to Amazon Go. In the future, Disney MagicBand would be obsolete and you could check in to your hotel simply by walking in the door. However, from what was displayed at CES, AI will most immediately impact our ground transportation and, quickly thereafter, our business operations and homes.
Travel Industry Takeaway: The promise of AI is that machine learning will unlock the power of data to automatically make decisions too complex or numerous for humans to address. Of all of the technologies showcased at CES, AI by far holds the most potential to impact every aspect of our lives, including travel. However, with all of the buzz around AI, it is yet to be determined how quickly travel brands will adopt, iterate and be successful in the era of AI.