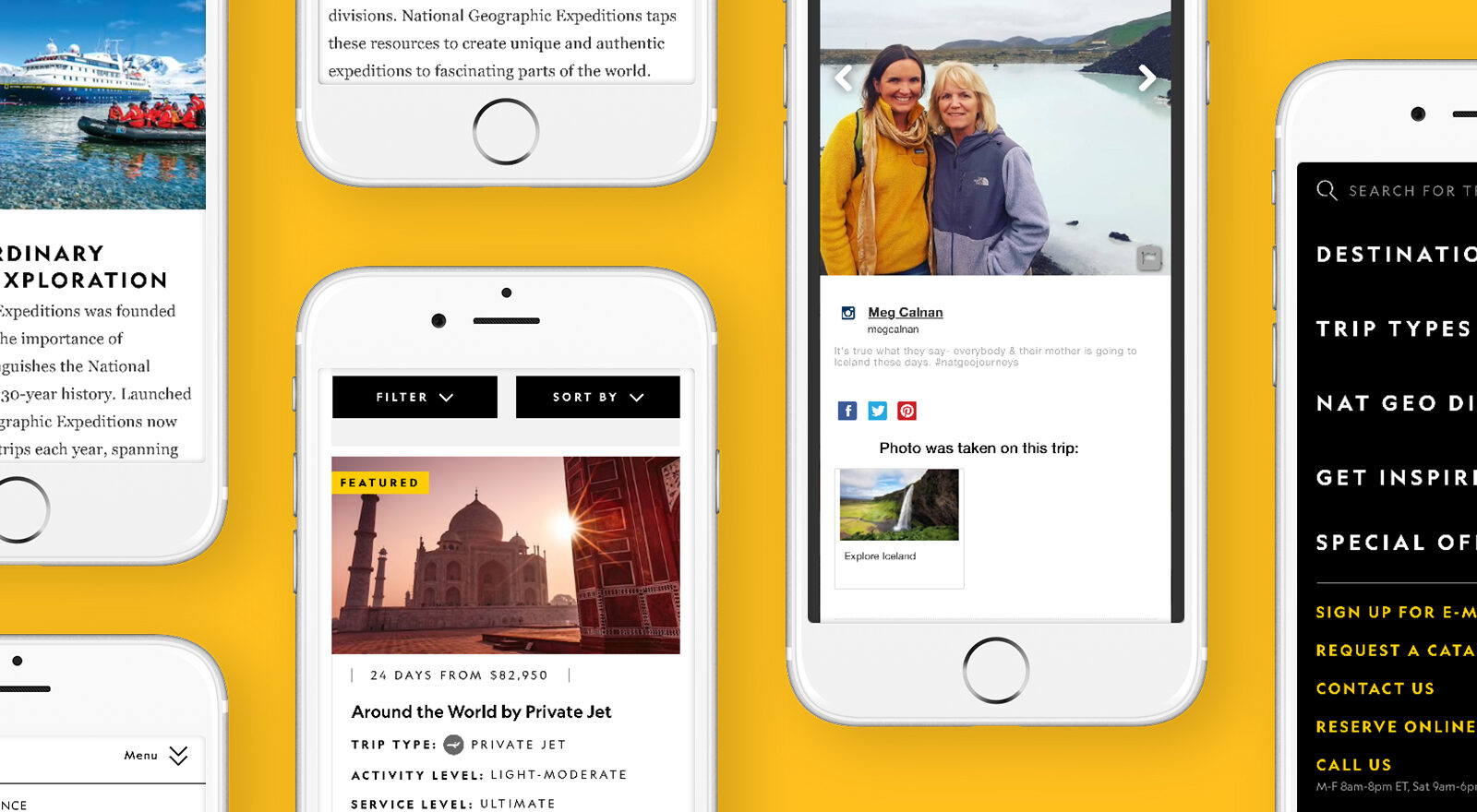 Situation
Following a successful site launch, National Geographic Expeditions wanted to redesign their website with goals to improve the site experience, clarify a complex product offering, increase conversion rates and incorporate a new brand position. National Geographic Expeditions worked with a second vendor to develop the site, which was designed by MMGY.
Action
To begin, we analyzed the current state of the user experience. Next, we conducted a user experience review of the website based on best practices and reviewed prior usability studies conducted by National Geographic. The taxonomy of the product offering was also evaluated using a method called card sorting. Using this method, participants sort different trip descriptions into discrete categories, such as Active Trips or Safaris. This was used to create a detailed sitemap.
We worked closely with National Geographic Expeditions to determine the types of content required, placing a strong focus on National Geographic articles that would be the most inspirational to users. The goal was to ultimately increase the visibility of the impactful user-generated content that had been curated over the past several years. We also created a set of landing pages, trip detail pages and reservation path designs to prototype and test with a set of users matching National Geographic Expeditions' affluent and highly educated audience. These prototypes were heavily evaluated via remote, unmoderated usability testing and revised to incorporate findings.
One of the more complex challenges we faced was enhancing the user experience of the trip detail pages. These pages included complex pricing structures, multiday itineraries, expert bios, ship details, extensions, reviews and inspirational content, including user-generated photos and videos. To solve this challenge, MMGY underwent a process of reorganizing and simplifying. We created an on-page scrolling navigation and, through usability testing, we determined which information should be exposed (such as itinerary details), and which information should be hidden yet easily accessible (such as the expert biography). The final design for this page performed well in usability tests and impressed the client's leadership team.
To ensure a fast and smooth development process, MMGY intricately documented all of our design work and presented it to the development firm. This record included interactions, CMS functionality, architectural diagrams and user flows, which altogether allowed the development firm to more easily implement our designs. Such thorough documentation exceeded the expectations of both the development firm and the client and provided an excellent basis for the development of the site.
Results
11.4% increase

in revenue yoy

51.4% increase

in time on site yoy

9.4% increase

in pages per session yoy